Stan Lee.
The name itself conjures up a smile. For many of us, he was the father of comics. A constant in the industry. A true comic book legend that is in great part responsible for the modern comic book age, and many of the popular characters that inhabit those worlds.
You couldn't ask for a better 'Ambassador' of comics…than that of Stan Lee.
Stan Lee passed away earlier this month (November 12), at the age of 95.
For many of us comic book lovers and fans of the medium and creators in it…the news didn't come as much of a shock.
All of us who were familiar with the last few years of Stans life were aware of the health issues he'd had. As well as the pain of losing his beloved Wife of 70 years, Joan on July 6th, 2017.
Nonetheless….it didn't make it any easier to accept.
To say that the feeling is that of losing a loved one wouldn't be too far off.
It did indeed feel like that. And for many of us, It was.
Stan Lee, born Stanley Martin Lieber, was one of the last of the "Golden Age" creators who worked in the 40's and later in 1961, would (Primarily with Jack Kirby and Steve Ditko ) go on to reinvent the comic book medium at Marvel only after being frustrated with the stale quality of comics in the late 50's .
He was tapped by his publisher to head up a 'super team' for marvel (previously "Timely Comics"). At that time, Stan was thinking of quitting the industry all together, He was encouraged by his Wife Jeanie to do the type of stories and storytelling HE wanted to do. With characters that interested HIM. Since he was thinking of leaving anyway and had nothing to lose, why not just go all out?
And that's exactly what he did.
Starting with the Fantastic Four, and moving on to other character books like Thor, Hulk, Iron Man, X-Men, Daredevil and of course Spiderman…and countless others. Instilling these characters with rich vibrant personalities, struggling with their own complicated life issues and problems.
It was unheard of up till then. Which is the very reason they became and remain so very popular.
Because….you…the reader, could relate to them. In some instances, you felt you could almost BE them!
And that was one of the things that made Stan so different and oh so damn important. His ability to make these characters actual people that you would actually WANT to not just invest your time in. But to also invest your heart in.
And many many did. And I was one of them.
The Controversy and the warring camps.

For some time now, there has been controversy surrounding Stan Lee.
With battling camps.
One camp being pro artist.
One camp being pro Stan the writer/creator.
The 'pro artist' camp sided greatly with greats like Kirby and Ditko, the two original artists with Lee at the time of the great "Marvel revolution".
Angry and quick to point blame at Stan and question what and how much of a role he had (if any) in the creation of these characters.
The 'pro Stan the writer' camp vigorously defending Stan. Some a bit too much and too quick to give him all the credit.
The "pro Artist" are quick to say Kirby, being the creative genius he was…should get the lions share of credit. But it's important to note, that Kirby had been working for some time before working with Lee…and yes, he did great stuff. But nothing reaching near the popularity as what came when working with Lee in those early years.
And even one of Kirby's greatest of creations, "Captain America", was a cardboard wooden character who ultimately was cut..and cancelled.
It wasn't until they decided to revive him 10 years later in Avengers#4 (1964). And instill him with a personality and storylines that were vibrant and captivating.
And the audience ate it up. And THAT Cap….is the Cap that is still the Cap we know today and is the same Cap used in the movies. And it is one of the most popular characters.
And that Cap…we owe to Stan Lee.
Yes…Kirby gets credit too. But Lee, made that good character great!
I stand somewhere in the middle I believe.
I think these three men (primarily) needed eachother. And were there at the just the right time, and at just the right moment.
And with each other…together, threw caution to the air and came up with fantastic, incredible and amazing results.
But Stans influence is undeniable.
And evidence of his influence goes on and on.
When Stan Lee was given a chance to do something..and do it full guns ablazing. It was incredible. And tie him to creative artists who helped in the design, staging, and even plotting areas?
That's magic folks!
Stan set a road map in how to do these things. And even rival DC took note.
Stan Lee, is not only just an extremely important individual to Marvel Comics.
He is an extremely important and valuable individual to comics in general.
The likes I'm not sure anyone else can match.
(I'm sure that many will cringe when reading that. Many will say "What about Kirby??"
I'll have another post on the Stan v Jack issues at another time to address those issues.)
Stan: "The Man"
As a young kid in the 70's, I was immersed in comic books. Wait..scratch that. I was immersed in Marvel Comics. And I devoured anything I could get my hands on or watch.
From the comic books (new and old back issues) to the "electric company" "Spiderman" episodes. To the live action 70's "Hulk" and "Spiderman" tv series
The comics were the cornerstone though. Always the cornerstone.
And not just the stories.
One of the things that Stan brought to the table, was his want for a "community" of sorts. In his "soap box" editorials in the letters page, he would have what I'd say were almost 'fireside chats' with us fans. Talking right to us!
His humor and warmth. His bright beaming smile showing right through those written words.
And that was genuine.


He later would do the same thing through convention meet and greets, panel discussions, interviews, etc etc.
He did that through the 60's, the 70's, the 80's, 90's and through the 2000's.
All the way to his passing.
He didn't just bring you along for the ride, He made you feel like you were part of the Marvel family. Even a part of the bullpen itself.
When I was 10 (I know that that is the age, because I remember being so amped up after watching the Spiderman tv show at night)…I would go to bed, and couldn't sleep. Not because I had a sleep issue. But because I wanted to stay up and when everyone ELSE was asleep…I would get up, sneak into the living room/den area. And pretend that I were a new hire at Marvel. And I was being introduced by Stan Lee to the bullpen.
"Steve! Let me introduce you to John Byrne! And over here is Frank Miller! Hey Art!! Art Adams!! Get over here and say hi to our new recruit!"
HAH!
He was comics. And he wanted you to know that YOU were too. We were family.
He made comic book convention appearances almost all the way up to his passing. Why?
He certainly didn't need the money.
He didn't need the fame.
He surly could have spent that time doing any number of things.
No…he did it because again…he was comics. And he loved spending time immersed in the culture.
He loved the fans. Basked in the LOVE that he got from them.
He fed off of it.
He thrived off of it.

More than just a creative force…he was a true Ambassador of the medium.
And no one could ask for a better one.
With the loss of Jack Kirby in 1994.
And the recent loss of the great Steve Ditko this past June 2018.
And now..with the passing of Stan Lee on November 12, 2018.
We say adieu to the trifecta of creators, that for the most part gave us the "Marvel Universe" that we have now and continue to enjoy in both comics as well as cinema.
I would argue that Stan Lee stands side by side with Walt Disney as the two most important and influential people in entertainment . And that isn't hyperbole either.
While we say good bye to them on this earth, we will never be without them. As their creations and works live on.
Stan..thank you for talking to us. Talking to us as if you were talking to a friend.
Thank you for involving us. And inviting us to be a part of the "Mighty Marvel Marching Society".
Inventing characters that weren't just *like* us..but in many ways were us.
You were more than just a writer/editor (one of the best ever by the way). More than a publisher. More than a creator.
You were family.
And because of that…we mourn you something awful.
But we also celebrate and keep you close to us. Knowing that you are no further away than opening one of our many longboxes of comics, or TPB's.
We Love ya.
You will always be with us.
So as a wise man once said:
……………………."NUFF' SAID"……………
And…………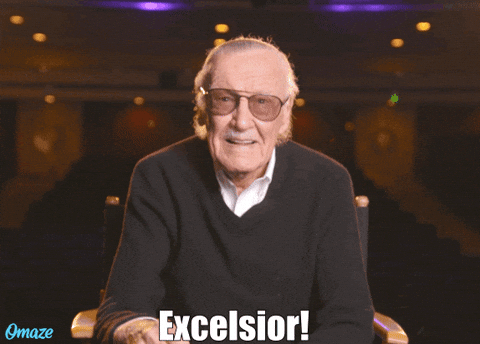 ****
*Post Note: This post was originally to be about the animation union. But understandably got pushed back to the passing of the great Stan Lee.